| August 10th, 2009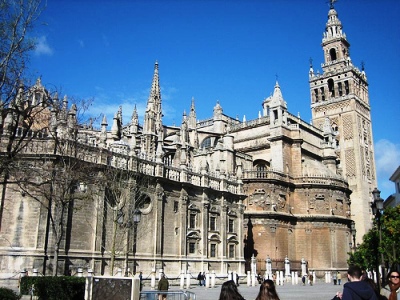 Seville is a warm, passionate city offering a plethora of impressive monuments, museums, churches and with a special love for bullfighting and flamenco dancing.
Most of all, Seville is a charming city whose character will stay with you for year. If you happen to spend only two days here, here are some ideas to help you set you an itinerary.
Day 1:
Once you arrive, it's a good idea to try to reach your hostel in Seville. Nothing like a quick shower, quick meal and a bit of relaxation after some hours of traveling. Most travelers will choose to stay in the Santa Cruz Barrio where the old city center is located.
Santa Cruz Neighborhood
This was once a Jewish quarter and now is a perfect place to get to know the city. A labyrinth of alleyways, white-washed housing and boutiques, this area is definitely the highlight of the city. Stroll along its narrow streets and you're sure to chance upon a jewel or two. Enjoy the time pass by you without having a set itinerary in mind.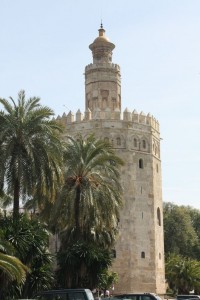 Casa de Pilatos
This building got its name because it is believed to have resembled the home of Pontious Pilate in Jerusalem. Casa de Pilatos is still considered as one of the most beautiful palaces in the city. Greek and Roman statues plus the fountain of the Genoan are on exhibit inside.
Flamenco
Enjoy the traditional expressive dance and guitar presentation at one of the numerous tablaos in Seville. Some could be fairly touristy though so ask at your hotel for recommendations (or ask fellow travelers). One of the most highly recommended flamenco tablao in Seville is el Carbonero, located within the narrow alleys of Santa Cruz. Entrance is free, and there is a performance every night at 11pm.
Bullfight
This contentious fight between the man and the beast is looked upon as an art in Spain. The city of Seville houses one of the oldest bullrings in Spain. Bullfights take place here from April until October with majority of events happening on Sunday nights.
Day 2: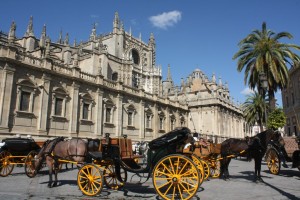 Cathedral and La Giralda
After your lovely breakfast, you can visit the Gothic church and the Moorish Giralda. Regarded as the biggest Gothic building in the whole world and the third biggest cathedral in entire Europe, this immense structure started about 1400 AD and was completed some hundred years later. It was constructed on the same location where a mosque once stood. If you climb the Giralda Tower the views of the city will definitely be rewarding.
Then you can enjoy lunch at one of the fine restaurants or cafe. After your siesta visit the Museo Provincial de Bellas Artes de Seville.
Museo Provincial de Bellas Artes de Seville (Seville Museum of Fine Arts)
This museum is considered to be one of the finest museums in Spain, containing exhibits of Spanish art dating from the medieval and Renaissance age. Situated in the old convent of Merced Calzada, the museum will surely captivate you with its exhibits which include items from the Gothic period all through the 29th century.
Lastly, finish your day with a sumptuous dinner and prepare for the trip back home.
Read more about:
>>Getting from Madrid to Seville