| August 23rd, 2011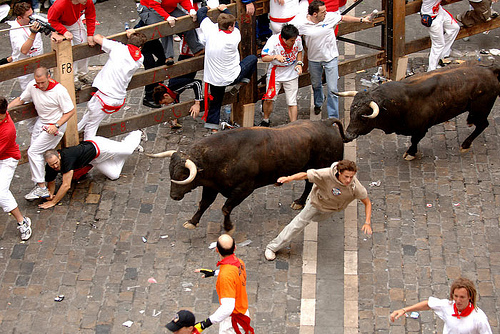 The Running of the Bulls, part of the San Fermin festival help in Pamplona each year, draws thousands of people who come to watch the foolhardy attempt to outrun an angry bull. But many people avoid the event because they feel it's cruel to the animals involved. If you agree and want to take a stand, you could join a very different running event  – the Running of the Nudes.
Sponsored by PETA, the event sees hundreds of naked – and scantily clothes – participants run through the streets of Pamplona. While at one time, this side event was less than welcome, over time city officials have warmed to the idea. After all, more people means more money for restaurants and hotels in Pamplona.
Though the Running of the Nudes is known as one of the biggest  nude events around the world, it's not just a party. Though the participants all seem to have a good time with the run, there's a more serious side to the event as well. Runners and spectators are generally there because they oppose the practice of the Running of the Bulls and bullfights in general, and are hoping to raise awareness, secure donations, and encourage others to take action to bring the tradition to an end.
Whether you are headed to Pamplona for the Running of the Bulls, or the Running of the Nudes, you'll need to buy your tickets to Barcelona in advance. The event is held in July and in Spain, like much of the rest of Europe, that's high season in Spain. Flights and hotels will be more expensive, cities will be more crowded, and when there's a huge festival or event like the Running of the Bulls, you'll find that to be even more true.
Photo by mikebricephotography