| May 8th, 2012
This post is brought to you by MyTravel. For more information on sponsored posts read here.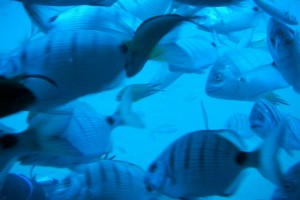 Lazing around on the beach with a cocktail in your hand is what holidays are all about, and Lanzarote in the Canaries is famed for providing just that. However, it's important to get away from the beach or poolside every now and then and head off on an excursion, so that you can get to grips with the culture, attractions and activities that the island has to offer. Lanzarote has plenty of exciting day trips to choose from that will keep the whole family entertained, and here are just a few of them.
Meet the wildlife at Rancho Texas Park
Located in the Puerto del Carmen part of the island, Rancho Texas Park is a must for any animal-lovers. The park, stylised as a south-western 'dude ranch' from the States, primarily features reptiles and birds, including a bird show, crocodiles, alligators, and enormous Komodo dragons. The fun doesn't end at sundown, either; the ranch offers country and western themed nights – an all-inclusive evening with an all-you-can-eat Texas barbeque, horse riding, line dancing competitions, and a bouncy castle for the kids.
Zoom around the island with Mega Fun
Mega Fun is an excursion that gives you the opportunity to zoom around the island on a quad bike. The three-hour journey takes in all of the main sights of Lanzarote, partly on-road but 80% off-road. Drivers must have a valid driving licence to take part, and children over the age of 7 are permitted to ride on the back of a quad bike driven by an adult. Beware; this one isn't for the faint hearted, as the off-road course over volcanic terrain makes for a very bumpy ride.
Submarine Safaris
An excursion unlike many others, Submarine Safaris offers visitors the chance to get on-board a specially-modified submarine unit, which then carries them down into the briny depths of the ocean. A scuba diver accompanies the vehicle underwater, dispensing fish feed so that various marine life cluster around the portholes, providing some fantastic photo opportunities for the everyone aboard. The underwater excursion lasts around an hour, and it's worth mentioning that the submarine is a small craft, and it does go rather deep under the surface (up to 100 feet); this isn't one for sufferers of claustrophobia – once the submarine has begun its submersion there's no changing your mind!
Splash and slide at Aquapark
The perfect antidote to a roasting hot day, the Costa Teguise water-park of Aquapark offers dozens of different slides, rides and pools for you to cool off and experience some adventure at the same time. Rides range from white-knuckle vertical drops to the more sedate rubber ring rides and wave pools, and free shuttle buses operate between the park's entrance and many of the major tourist resorts and hotels in Lanzarote. Trained lifeguards patrol every pool, so you can let your kids go nuts on the slides safe in the knowledge that they're being looked after.
So with all those activities to choose from, if you're planning to spend your summer holidays in Lanzarote, all that remains is to find some time for dozing on the beach.
photo by peteoshea