| June 10th, 2009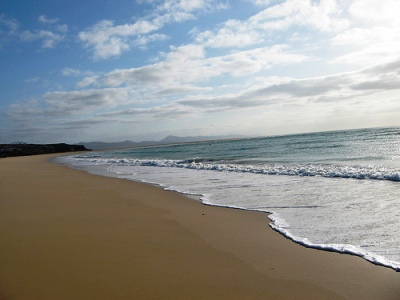 Fuerteventura is part of the Canary Islands . The island is popular among tourists looking to spend some time on the beach. It also offers some lovely off the beaten path places to enjoy most of them not known by tourists. If you wan to explore the wilderness, it's best to rent a car. Otherwise, the public transport is excellent for getting to beaches and to get to/from the airport.
By plane
The only direct way to get from Barcelona to Fuerteventura is by plane. The airport on Fuerteventura is located near Puerto del Rosario. The airport is being expended to cope with the increasing number of charter flights arriving each summer.
The following carriers offer direct flights from Barcelona to Fuerteventura: Air Europa and Iberia. The flight takes about 3 h 15 min.
The fare depends mainly on the carrier and when you book your flight. It's best to plan ahead.
Plan to travel during the week and avoid the weekends, when the prices are usually higher. If you don't mind flying early in the morning or late at night, then you can save some money on the fare.
By ferry via other islands
Fuerteventura is linked by ferry to the other islands, such as Tenerife, Gran Canaria and Lazarote. In some cases it might be cheaper to fly into one of the other islands and catch a ferry to Fuerteventura.
For example, a seat on a ferry from Gran Canaria to Fuerteventura costs €43 per person, one way. There are three departures per week. The journey takes 6 h 30 min.
Search here for ferries:

Other related information:
>>Airports in Spain
>>Getting from Madrid to Barcelona
>>Getting from Madrid to Toledo
>>Getting from Madrid to Salamanca
>>Getting from Madrid to Lisbon
>>Getting from Madrid to Malaga
>>Getting from Madrid to Seville
>>Getting from London to Ibiza
>>Getting from Madrid to Valencia
>>Getting from Madrid to Ibiza
>>Getting from Barcelona to Tenerife
>>Going from Madrid to Algeciras or Tarifa
>>Getting from Barcelona to Mallorca
>>Getting from Spain to Morocco
>>Getting from Madrid to San Sebastian
>>Getting from Madrid to Segovia