| May 25th, 2009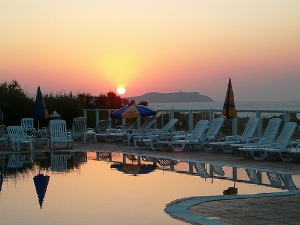 Visiting Madrid is an incredible cultural experience but if you want to taste the party scene, you need to get to Ibiza . The famous party island is not a cheap destination though but with careful planning at least you can save on transport and accommodation, allowing for more money to spend in the clubs.
Direct flight
Both Madrid and Ibiza are served by airports. During the summer there are plenty of low-cost carriers serving the island (and numerous charter flights available, as well).The flight takes 1h 10 min.
Several budget airlines that fly to Ibiza start from Madrid, although airlines fly more frequently from Barcelona to Ibiza. The following carriers offer direct flights between Madrid and Ibiza: EasyJet, Air Europa, Vueling Airlines and Iberia.
EasyJet offers daily flights between the two cities but it's important be flexible on dates and check the prices often. For example, if you book your RT ticket one month in advance, expect to pay at least €67.47 per person. On the other hand, booking two months in advance means you'll be paying more (from €92.97 per person, RT).
As for the regular carriers, prices start at €117 per person, RT (on Air Europa) if you book a month in advance and up to €133 per person RT if you book two months in advance.
Contrary to popular belief, this route (Madrid to Ibiza) doesn't get cheaper if you book in advance, especially when we are talking about July and August (peak season).
Start searching for flights from Madrid to Ibiza here:
By ferry, via Barcelona
If you don't like to fly, there's always the possibility to travel from Madrid to Barcelona and then catch a ferry to Ibiza. The cheapest way to travel between the two cities is by bus : €28 per person, one way on a normal bus. If you prefer a faster approach (about 3 hours) the high speed train is the best choice: €110 per person, one way.
>>more information on Getting from Madrid to Barcelona
The ferry ride between Barcelona and Ibiza takes over 8 h 30 min and prices start at €80 per person, one way for the standard seat. There's a ferry departing daily from Barcelona at 11 p.m.
>>more information on Getting from Barcelona to Ibiza
Other related information:
>>Airports in Spain
>>Madrid Airport Transportation
>>Getting from Madrid to Barcelona
>>Getting from Madrid to Toledo
>>Getting from Madrid to Salamanca
>>Getting from Madrid to Lisbon
>>Getting from Madrid to Malaga
>>Getting from Madrid to Seville
>>Getting from London to Ibiza
>>Getting from Madrid to Valencia
>>Getting from Barcelona to Ibiza
>>Getting from Barcelona to Tenerife
>>Going from Madrid to Algeciras or Tarifa
>>Getting from Barcelona to Mallorca
>>Getting from Spain to Morocco
>>Getting from Madrid to San Sebastian
>>Getting from Madrid to Segovia
>>Getting from Barcelona to Fuerteventura