| August 24th, 2010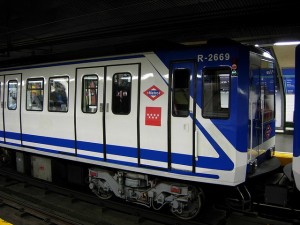 Connecting all parts of Madrid underground, Madrid's metro system is relatively efficient and well laid out. For the first-time visitor, it might be slightly overwhelming, especially if you're in the metro during the peak hours. Morning office hours see massive throngs of crowds dashing all over the station. To avoid the crowd or delays, catch the metro on weekday afternoons.
There are over 12 lines in the metro system (and more new ones in the process of construction). Differentiated by numbers and colors, the metro lines might look like a complex spider-web network, but once you get the hang of it, you'll find it easy to navigate. Major districts, museums and places of interest are all connected via the metro. The metro system is also the easiest and most convenient way of getting from the Madrid Barajas Airport to downtown Madrid.
Most of Madrid's attractions are concentrated in the historical center and are within walking distance, but the city is enormous and it is advisable to catch the metro to explore more of the city. The Ventas Bullfighting ring and Real Madrid Stadium are situated outside of the city's old quarters, so if you're planning to visit them, a metro ride would be the best way to go.
Tips on Using the Madrid Metro System
Check the Madrid's metro map to plan your trip; there are usually several ways to get to your destination, plan out the fastest and easiest way using the map.
Use the Madrid metro online planner to find the fastest way to get from one place to another.
Before leaving your house, you can check the online timetable to see what time your train will arrive.
Cost of Taking the Madrid Metro
A basic Metro ticket costs €1, and you can buy them at Metro stops through the cashier or automated machines. In addition to the basic Metro tickets, there are also daily tourist passes, called Tourist Transport Season Ticket" (Abono Transporte Turistico). These cost €5.50 for 1 day, €8.80 for two, €11.60 for 3 days and so on. You can purchase these passes for up to 7 days.  For metro tickets to the airport, you'll have to pay a €1 surcharge.
When riding the Madrid Metro, especially when it's busy and crowded, keep a close eye on your belongings – from your purse to your camera to your wallet. Pickpocketing incidents are rather common in Madrid metro, it's best to keep a look out.
Photo credit: Flickr photos by Diorama Sky