| September 30th, 2010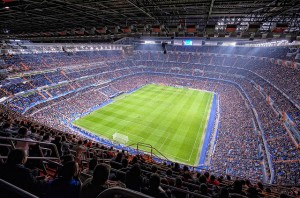 The Real Madrid Santiago Bernabéu Stadium sets the scene for some ferocious football battles in Spanish sports history. Owned by Real Madrid C.F, the stadium has hosted many major matches in the country. The massive stadium can hold up to 80,354 spectators. El Bernabéu, re-named in honour of their former chairman Santiago Bernabéu Yeste, is one of the world's most famous and prestigious football venues. It has hosted the European Cup final on three occasions: in 1957, 1969 and 1980, and the 2010 Champions League final.
The Madrid Soccer Stadium is one of the essential things to do in Madrid, especially if you're interested in getting a deeper understanding of the Spanish culture. European football is a staple of Spanish life and in the right season, will dominate the entire city of Madrid. On-site tours are given of the arena when games aren't being played. You'll get a guided tour of the stadium as well as the players' locker room area.
>> Read more about the Real Madrid Stadium Tours
It's no surprise that tickets to watch a major football match in the stadium are extremely pricey.  For match tickets visit the Real Madrid tickets page where you can reserve them securely online. On game days, huge crowds usually gather outside of the stadium where giant screens are erected for the public. This is one of the best places to watch a football match in Madrid, as the atmosphere is roaring.
The area around the stadium is home to numerous football bars for those looking for a truly local experience or simply those unable to get a ticket. The area is definitely worth a visit just to see the structure itself which towers over the square that houses it.
How to Get There:
The Real Madrid Football Stadium is located on the Paseo de la Castellana, one of the major commercial districts of Madrid. To get there, take the metro line 10 and alight at the Santiago Bernabéu station. You can also get a night bus from there; check the Madrid transport website for details.
Photo credits: Flickr photo by marcp_dmoz