| February 26th, 2010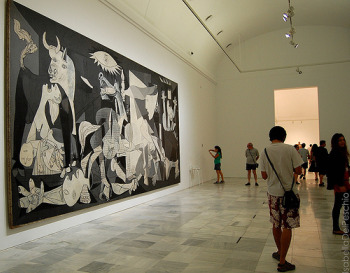 Picasso's Guernica is one of the most visually stunning paintings in the world, and one that is best appreciated when viewed in person.
At first glance, the painting looks like chaos – all hard lines, blunt angles, and cartoonish scenes of animals and people. But when you look at the details, you begin to see more. Here's a woman, grieving for the child in her arms. There's a fallen man, his broken sword lying beside him. The painting depicts the bombing of Guernica (in Basque Spain) during the Spanish Civil War. The Guernica takes up nearly an entire wall of the museum, and at 11 feet tall and nearly 27 feet wide, it is simply massive.
The Guernica is housed at the Reina Sofia , one of the best museums in Madrid. The museum holds four floors of modern, contemporary and post-impressionist art, from Picasso as well as Spanish artists like Dali, Miro, and Munoz.
The museum is open Monday through Saturday from 10am to 9pm and Sunday from 10am to 2:30pm. It is closed on Tuesdays.
Free admission is offered Monday, Wednesday, Thursday and Friday from 7pm to 9pm, Saturday from 2:30pm to 9am and Sunday all day. Otherwise, general admission is 6 euros for adults.
Photo by Isabeaux11