Getting from Barcelona to San Sebastián (and return)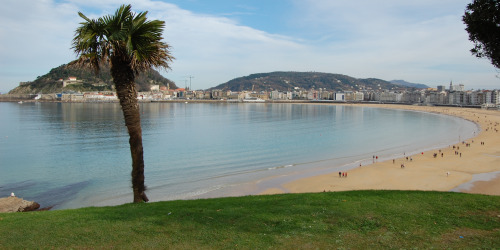 Tucked in the Basque Country, close to the French border, the charming city of Donostia-San Sebastián (official name) is made up of a series of beaches linked together by well-designed boulevards as well as an ecclectic city center. With easy access between Barcelona and San Sebastián, you can easily explore the Northern part of Spain swinging from one city to the next. Relax on the beaches of San Sebastian, climb its surrounding mountains or tuck into its world-renown pintxos – San Sebastian will not disappoint.
Depending on how far in advance you are planning the trip, you can choose either the train, bus, airplane or driving yourself to cover the 550km between Barcelona and San Sebastián.
By plane
Airfares from Barcelona to San Sebastián are surprisingly expensive considering the proximity and substantial demand. Iberia flies the route regularly, with airfares starting from €140. Weekend airfares are more expensive. The San Sebastian Airport is located 22km from the city centre.
Start searching for flights from Barcelona to San Sebastian here:
By train
The Spanish national rail, Renfe, operates the Barcelona-San Sebastián route. It takes approximately 5hours 30minutes, and there are regular trains departing Barcelona Sants Station everyday. Ticket prices start from 79euros. Check the Renfe website for tickets.
By bus
The buses from Barcelona to San Sebastián are run by Vibasa. The journey takes approximately the same time as the train. There are several departures per day. Check Vibasa website to book the tickets in advance.
Return tickets cost approximately €53 per person. They are cheaper than the trains and are rather comfortable.
By car
If you prefer the independence of driving, renting a car in Spain is a convenient and fast way to travel. The 550km between Bilbao and San Sebastian can be covered in 5hours 20minutes via several AP motorways (toll roads).
Here's a map (with the shortest route marked) to help with directions:

View Larger Map
Note:
* search the route on Google Maps exactly as mentioned above, otherwise you'll get the directions to a different city.
Other related information:
>>Airports in Spain
>>Getting from Barcelona to Bilbao
>>Getting from Madrid to Bilbao
>>Getting from Madrid to Barcelona
>>Getting from Madrid to Toledo
>>Getting from Madrid to Salamanca
>>Getting from Madrid to Lisbon
>>Getting from Madrid to Malaga
>>Getting from Madrid to Seville
>>Getting from London to Ibiza
>>Getting from Madrid to Valencia
>>Getting from Madrid to Ibiza
>>Getting from Barcelona to Tenerife
>>Going from Madrid to Algeciras or Tarifa
>>Getting from Barcelona to Mallorca
>>Getting from Spain to Morocco
>>Getting from Madrid to Segovia
>>Getting from Barcelona to Fuerteventura