| April 29th, 2009
Madrid and Barcelona are two of the most popular vacation destination in Spain. Travelers flock to both cities to experience the cultural heritage, enjoy the nightlife, do some shopping and soak up the atmosphere.
Many travelers want to visit both cities during their vacation, so Madrid to Barcelona (or the other way around) is a popular route with plenty of choices when it comes to transportation.
By plane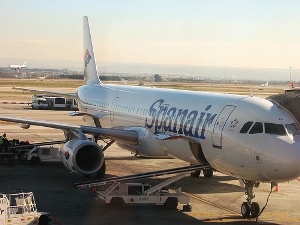 Both cities are served by airports. The busiest Spanish airport is Madrid Barajas International Airport (MAD), while Barcelona International Airport (BCN) is Spain's second biggest airport. The travel distance is 1h 10 min – 1h 20 min.
Numerous budget airlines fly to Barcelona: Air Europa, Vueling Airlines and Iberia offer daily flights between the two cities. The cheapest tickets are usually offered by Air Europe and Spain Air. The number of flights per day increases as the summer approaches and there can be as many as over 50 total flights per day.
When it comes to fares, they depend on the airline, hour of the flight, class and how far in advance you are booking. If you book a one-way ticket for the summer season about 6 weeks in advance, the fares can be as low as €42 per person (on Air Europe, class: economy, departure: 9:25 a.m., 7:25 p.m., 8:55 p.m.).
In order to find the cheapest fare, plan to fly in the morning or in the evening. Also it's important to avoid the weekends and book your flight in advance. For example, during the high season, a ticket can cost up to €200 per person, one way (on Iberia, class: economy, departure: 3:45 p.m., 4:45 p.m., etc) even if you book in advance.
Start searching for flights from Madrid to Barcelona here:
Read more about
>>Madrid Airport Transportation
>>Airports in Spain
By train

Madrid is served by two train stations: Atocha and Chamartin. Barcelona's main train station is Estacio-Sants. The high speed trains depart from Atocha while the slow train departs from Chamartin.
There are over 20 departures daily from Madrid to Barcelona. The first train leaves at 5:45 a.m. and the last train at 9 p.m. Some of these trains only run until mid-June so make sure to check the schedule before planning your vacation.
It takes about 2h 45 min to travel by high speed train (called AVE) between the two cities. There's also a slower train (called Costa Brava) and which takes 8 hours to reach Barcelona (but is not in use during the summer).
The ticket prices depend on the type of train you are taking. If you choose the slow train, you'll pay little over €41 per person, one-way (tourist ticket). If you choose the high speed trains, the tourist ticket costs between €110 and €130 per person one way, depending on the hour of departure. The prices are the same no matter when you are traveling or booking the ticket.
>>The train schedule can be viewed here.
By bus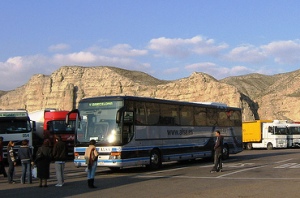 Traveling by bus in Spain is one of the cheapest ways to get around the country. However, the time spent in a bus can be quite long.
Méndez Alvaro is the most important bus station in Madrid while Barcelona is served by Barcelona Nord bus station.
It takes 8 hours to get from Madrid to Barcelona by bus and there are departures all day long (over 15 connections per day).
There are several types of buses you can choose from: normal, eurobus and supra+. In the eurobuses mineral water is offered for free. You can also watch movies and read the press (for free). In the supra+ buses there are also electrical sockets and wi-fi.
The ticket prices depend on the type of bus you are choosing. A ticket on a normal bus costs €28 per person, one way. A ticket on the eurobus costs €41 per person, one way and a ticket on the supra+ bus costs €35 per person, one way.
>>The bus schedule can be viewed both here (15 days in advance and only normal buses) and here (year round, all types of buses)
By car
Renting a car in Spain is one of the best ways to travel between cities at your pace and without having to stick to a strict schedule. Choose a small car with AC, especially if you plan to drive during summer.
The driving distance between Madrid and Barcelona is about 600 km. Depending on your driving style, you can reach the destination in about 6.5 hours. The main route is A2 highway (also called Barcelona Road) via Zaragoza. But if you chose this route you won't be seeing much coastline.
Another option is on A3 and then on A 7/ AP 7. It takes longer but you will be driving along the coast longer (via Valencia). In Spain, some roads named "AP" (autopista) are toll roads.
Here's a map with directions: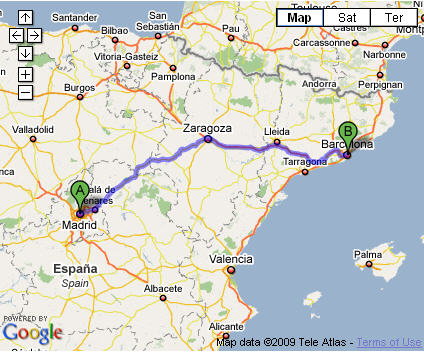 Other related information:
>>Getting from Madrid to Toledo
>>Getting from Madrid to Salamanca
>>Getting from Madrid to Lisbon
>>Getting from Madrid to Malaga
>>Getting from Madrid to Seville
>>Getting from London to Ibiza
>>Getting from Madrid to Valencia
>>Getting from Barcelona to Ibiza
>>Getting from Madrid to Ibiza
>>Getting from Barcelona to Tenerife
>>Going from Madrid to Algeciras or Tarifa
>>Getting from Barcelona to Mallorca
>>Getting from Spain to Morocco
>>Getting from Madrid to San Sebastian
>>Getting from Madrid to Segovia
>>Getting from Barcelona to Fuerteventura