5 Reasons to Study Abroad in Granada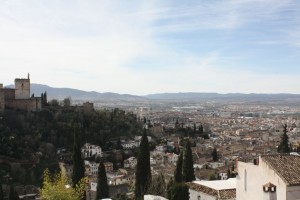 This guest post by Zoe Fishman of GoOverseas.com tells us why everyone is studying abroad in Granada. For those considering studying in Spain, Granada makes an excellent choice for its cheap food, laid-back atmosphere and its reputation as a happening university city.
Granada, the charming Andalusían city nestled in the foothills of the Sierra Nevada Mountains, is widely considered a fantastic place to visit for any traveler in Spain. Having experienced it myself in Andalusia, I can see why it is one of the best cities in Spain (arguably in the world) to study abroad. Below are just some of the many reasons why college students have fallen in love with Granada:
Budget Friendly
Andalusía is one of the cheapest regions in Spain to live and travel. This is especially true when it comes to food and basic necessities. In other parts of Spain, a beer might cost 3-4 Euros, in Granada a beer usually costs a Euro or two. What makes Granada even more economical is its tradition of serving free tapas with each drink order (alcohol or otherwise). These tapas are quite substantial and can range from a small bocadillo (sandwich) to a plate of steaming, delicious paella. You can literally eat a whole meal for free—the only limit is how much you can drink!
College Town
The University of Granada has a huge presence in the city and is a popular destination for students from all over Spain and the rest of Europe. As a result, the city is student-friendly and has an exciting nightlife. When the sun sets, Granada's parks and plazas become packed with students meeting up for a botellon (a casual outdoors drinking session) before heading out to town. The city is packed with bars and discotecas, which fill up by midnight with a fun, college-aged crowd. The sheer number of students in Granada makes it easy to meet and befriend Spaniards and international students your own age, all eager to learn English and meet other students.
Cultural Attractions
The more time you spend in Granada, the more you will pick up (and love) Granada's unique bland of Spanish culture. While short-term visitors to Granada will of course tour the stunning Moorish castle, the Alhambra, study abroad students will be able to return to the Alhambra again and again (FYI, the Alhambra is much more exciting than your typical medieval castle).

Students and long-term residents will also be able to immerse themselves in the charm of Granada's many distinctive neighborhoods. Granada is famous for its flamenco shows, which are dramatic and moving spectacles of dance and music, often held in the gypsy caves of the Sacromonte. Without the pressure of a short-term visit during the peak tourist season, students are able to experience the best and lowest priced shows. Besides these essential attractions, there are also plenty of free things to do in Granada that caters to the budget student traveler.
Laid-back Atmosphere
Another aspect of Granada's culture that students will learn to love is the siesta. The midday nap represents a quality of life that students love about the region of Andalucía and Granada in particular. No one seems is in too much of a hurry, the people are warm and friendly, and everyone seems to appreciate all that life has to offer.
Excellent Location
Granada is in the south of Spain, in the region of Andalusía. It is an easy bus or train ride away from many other Andalucían cities, such as Córdoba, Sevilla, and Málaga. It is also a simple day trip to the Alpujarras, which is made up of small, charming towns in the hills of southern Spain. The Costa del Sol is a short bus ride away as well, and allows for a day or weekend of lounging on the beach. The Sierra Nevada Mountains also offer the chance to hike or ski for those with an adventurous spirit.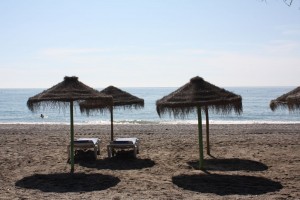 Another major advantage of Granada's location is its proximity to Morocco, which is only 12 miles off the southern coast of Spain. Granada has its own airport although few airlines fly here; Malaga airport, just one and a half hours away, is served by many more airlines.
If you're now convinced that Granada is an ideal place to study abroad, and you're ready to pack your bags and go, you'll be glad to hear there is no shortage of excellent programs to choose from. Many universities have their own study abroad options in Granada, but if yours does not you can also investigate some private program providers. IES, API, CEA, and ISA all have a history of running successful study abroad programs in Spain.
Images by Nellie Huang.
————————————————————————————————————-
About the Author:
Zoe Fishman is the Study Abroad Content Editor at GoOverseas.com, and had a love of travel instilled in her from a young age by her parents. She recently spent a semester studying in Córdoba, Spain, which convinced her that significant portions of her life must be spent living abroad. Her travel wish list currently includes Argentina, India, and hopefully an expedient return to Spain.