Cooking Classes in Spain
Spain is reputed for many things: its rich culture, flamboyant traditional arts and beaches but most of all, it is best known for its food. The paella, ubiquitous jamon (cured ham) and churros con chocolate have all give Spain its world-famous status as a culinary capital. With such a rich gastronomy, what better way to get under the skin of the country than to embark on a culinary tour of Spain?
Besides going on Spanish tapas tours or wine-tasting tours, the most popular option for a food-lover is going for cooking classes in Spain. Those who like to get their hands dirty will enjoy taking practical lessons on preparing typical Spanish dishes and learning more about the Spanish culinary practices and traditions.
For those interested in taking up cooking classes in Spain, here is a list of operators that organize culinary courses ranging from 2-hour cooking classes to week-long programs in various corners of the country.
Epiculinary is an established culinary tour operator that specializes in custom-tailored gastronomic journeys that include cooking classes in their itinerary. There are several routes around Spain to choose from: Authentic Andalusian (brings you around Granada and nearby Durcal), Basque Cuisine (San Sebastian, Santillana and Bilbao), The Catalan Kitchen (Barcelona and Palafrugell) and La Rioja Wine Country. These tend to be week-long or multi-day trips that include cooking classes, market walking tours and winery visits. Check the website for dates and prices.
Based in El Priorat, Catacurian organizes cooking classes in Barcelona and around the region. Choose from a 1-day cooking class and winery visit or 3-day gourmet culinary programs or 6-day courses. What sets this tour operator apart from the rest is that it designs specialized programs to cater to specific needs, such as its 4-day paella and rice program. Accommodation in Barcelona's rustic guesthouses is also included in the packages.
A small-scale culinary school in Barcelona, Cook and Taste specializes in Spanish cooking classes for small groups. Conducted by a veteran chef who's knowledgable and fun to work with, the cooking classes at Cook and Taste usually last for one day. It includes a guided tour to La Boqueria market. Its 5-hour cooking class gives you hands-on experience and provides tons of information on local gastronomy.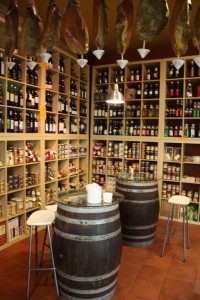 With possibly the most comprehensive list of culinary experiences on offer, this culinary operator organizes a wide spectrum of tours and cooking classes around Spain, catering to foodies of different needs. Besides tapas and wine tours in Madrid, the culinary tour operator also conducts cooking courses throughout the country: Sevilla, Valencia, Barcelona, Madrid, San Sebastián, Cadiz and Marbella. Choose from different focuses – avant garde, vegan or traditional gastronomy.
This outfitter organizes one-day cooking classes in various parts of Spain: Seville, Barcelona, Madrid, San Sebastián and Bilbao. These classes start with touring a local market and buying ingredients with the chef. Each class is custom designed for students based on what you would like to cook. The classes are perfect for the novice and experienced professional alike. Alternatively, Epicurean Ways also designs tailor-made culinary tours that pair up cooking classes with other culinary experiences such as winery tours, wine tasting sessions, tapas tours, visits to olive oil mills, and fish markets.
A fan of Spanish gastronomy? Read more about it:

>> Spanish Food and Drinks
>>What to Eat in Spain: Famous Spanish Foods
>>Twitter Poll: What's Your Favorite Spanish Food and Why?
>>Wine-tasting in La Rioja region
>>Drinking Cider in Basque Country
Photo credits: All photos by Nellie Huang.