Getting from Seville to Lisbon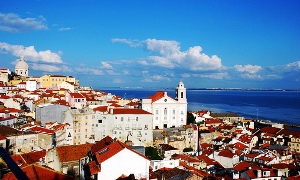 Thanks to the easy access between the two countries, combining Spain and Portugal in one trip is a popular option amongst travelers. Lisbon and Seville are on many travelers' to-do-lists and fortunately, their close proximity make them easy to hop from one city to the next. For those with a tight schedule who want to add Portugal to your Spain trip, traveling directly from Seville to Lisbon would be the best option.
If the vacation is planned ahead, flying is the cheapest way to get between Seville and Lisbon but if the trip is a last-minute decision, you might want to choose the bus or rent a car.
Otherwise, if you've got time to spare, traveling slowly exploring lesser-known towns and cities along the way is an enjoyable way to experience both countries. Besides traveling direct from Seville to Lisbon, there are many other ways to get from Spain to Portugal.
By plane
Both Seville and Lisbon are served by airports and there are plenty of cheap flights to Portugal. Seville's airport is slightly outside the city centre but easily accessible by bus, while Lisbon's airport is located very close to the city (just 4 miles from the city) so getting from the airport to your Lisbon hotel is an easy task.
Several airlines fly the Seville-Lisbon route – Iberia, TAP Air Portugal, Air Europa and Vueling (by way of Barcelona). The flight takes 1h 10 min – 1 h 20 min. There are numerous flights per day (2 offered by EasyJet). Prices vary according the carrier, class, when you are flying and when you are booking. If you want to choose the low-cost carrier and book the flight about 6 weeks in advance, expect to pay as low as €70 per person, one way, including all taxes.
Start searching for flights from Seville to Lisbon here:
By train
Train is not exactly a good option to get from Seville to Lisbon as you'll have to go through Madrid. You could first catch a Renfe train from Seville to Madrid and then the overnight train (10hours) to go from Madrid to Lisbon. The train is available year round.
The ticket price ranges between €73 and €191 per person, one way, depending on the type of seat and class. You can usually find cheaper airfares or bus fares than train tickets. Alternatively, you could also take a bus from Seville to Faro then a Portugese train from Faro to Lisbon.
By bus
Alsa Bus runs regular direct services between Seville and Lisbon. There are a few departures in the day and overnight (which saves you a night of accommodation), and the journey takes 6 to 7 hours. The ticket price is €37.70 per person, one way. Discounts are available for seniors and children under 12.
Note: make sure to look for "Lisboa" in the drop down list .
By car
Renting a car is one of the best ways to get from Seville to Lisbon if you prefer to have freedom and want to explore at your own pace. It's also much faster than taking the train or bus. The driving distance between Seville and Lisbon is 460 km and the journey takes about 4hours.
You'll be taking A-49 and A-2. Both are toll roads.
Here's a map to help with the directions:

Ver mapa más grande
Information:
>>Getting from Madrid to Lisbon
>>Madrid Airport Transportation
>>Getting from Madrid to Barcelona
>>Getting from Madrid to Toledo
>>Getting from Madrid to Salamanca
>>Getting from Madrid to Malaga
>>Getting from Madrid to Seville
>>Getting from London to Ibiza
>>Getting from Madrid to Valencia
>>Getting from Barcelona to Ibiza
>>Getting from Madrid to Ibiza
>>Getting from Barcelona to Tenerife
>>Going from Madrid to Algeciras or Tarifa
>>Getting from Barcelona to Mallorca
>>Getting from Spain to Morocco
>>Getting from Madrid to San Sebastian
>>Getting from Madrid to Segovia
>>Getting from Barcelona to Fuerteventura
Photo credit