Spring Break in Spain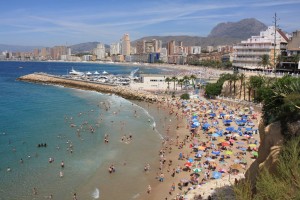 Everyone's favorite time of the year is quickly approaching, time for spring break! If you're plan to spend your spring break somewhere sizzling, colorful and fun, then Spain might just offer everything that you need.
For those with a thing for crazed soccer fans, flamenco dancing, bull fighting and beautiful yet unique artistic architecture, then Spain is the perfect setting for your spring break getaway. The country has everything to cater to the student traveler, from the kick-back nightlife to the high-paced sightseeing and tourist attractions.
Let's face it, you must experience Europe sometime in your life, and spring break is just around the corner, so why not start with Spain: the groovy, gyrating country best known for its palpitating fiestas and outrageous good food?
Whether you're going on a group tour or an independent trip, you'll be faced with thousand and one things to do and experiences to be had. Lots of students choose to travel independently, and it is extremely easy to navigate Europe and also travel it alone or with a friend. Grab a back pack, buy your Eurail pass and you are off. The benefit of buying this pass is that you have free reign of the trains throughout Spain and other parts of Europe anytime and anyplace. It is a little pricey, but if you are seeing a ton of things in a short time it can definitely save money. So much so that you might not need to apply for a student credit card.
So now that you've chosen Spain as your destination, where should you visit and what's fun to do? Barcelona, Spain's funky, lively yet charming capital culture, is best known for its hip atmosphere and swanky lifestyle. People flock to the city for the best food, fashion, music, and all around good times. Barcelona truly has a style of its own. The best time to visit Spain is from spring to summer when the most events and best weather occur.

For art-lovers, one of the most interesting things to do in Barcelona is the buildings and architecture. Antonio Gaudí, one of Spain's greatest artists, was at the forefront of the Art Nouveau movement in Spain, and the results of his masterpieces decorate Barcelona. These are not only visually appealing to the eye but are some of the city's most visited sites. La Sagrada Família is Gaudí's last unfinished work. This cathedral defies the laws of architecture and should not be missed on your Gaudí tour.
Beyond the Gaudí sites you have to take a stroll down La Rambla, Barcelona's main street. The street is in the center of town and stretches down to the oceanfront. The street contains things like the bird market on the second block, the famous 19th century opera house, Gran Teatre del Liceulater on down and inevitably ends with a seedy part of the strip. You will eventually find yourself at the Mediterranean Sea and the Port Vell (Old Harbor). At the ocean you will find the Monument a Colom, (Columbus Monument) and harbor activities.
After the day ends you will most definitely want to check out the nightlife. Barcelona is not stereotyped as some of Spain's other southern cities are, as a big party town, but they sure do know how to party till the sun comes up. Night activities don't start until 11, and they literally go all night. Spaniards also like to start things later. Enjoy tapas with friends and hop from one bar to the next to savor the best of Spanish foods.
For the student traveler on a budget the Barri Gòtic, located in walking distance from La Rambla, is the cheapest and a very flavorful part of town to stay in. This part of town is also host to bars, cafés and cheap Barcelona hostels. If you thought you recognized this district's name you are probably right, it comes from the fact that the buildings and surroundings are medieval Gothic inspired. Barcelona is pretty easy on the student traveler's food budget as well. For the mid-ranged food plan estimate $10-$15 for meals and $40-$70 for accommodations.
Other activities that Spain are known for include, of course, bull fighting. Unfortunately the best location to catch some fights is not in Barcelona (though you may find some during summer). Pamplona is the location of the most famous festival, the Running of the Bulls, held in July. If you want to see how Spain really can fight, soccer is the national sport and more than just a pastime. If you do catch a game you will be amazed at how serious this game is to the country and its inhabitants. Swimming, cycling, trekking and surfing are also some great activities to do while in Spain.
Spain's welcoming environment will take you by surprise and then envelope your senses so you won't ever want to leave. The mix of artistic influences, city lifestyle and fashionably chic people encompasses all desires of what makes a great spring break.